Life's moments need to be celebrated and captured. The best way to do this is by creating your own personalised jewellery piece to treasure for years to come.
Whether that be the love between two people that have created a bond that will last a lifetime or a colleague that has decided to move on after years of friendship to a new position.
A groom on his wedding day with a heartfelt message from his partner, or perhaps a first-time daddy, from his little one.
A special memory for a child graduating from school or university or perhaps that milestone birthday of 18 or 21.The start of a new journey in life such as a teenager coming of age.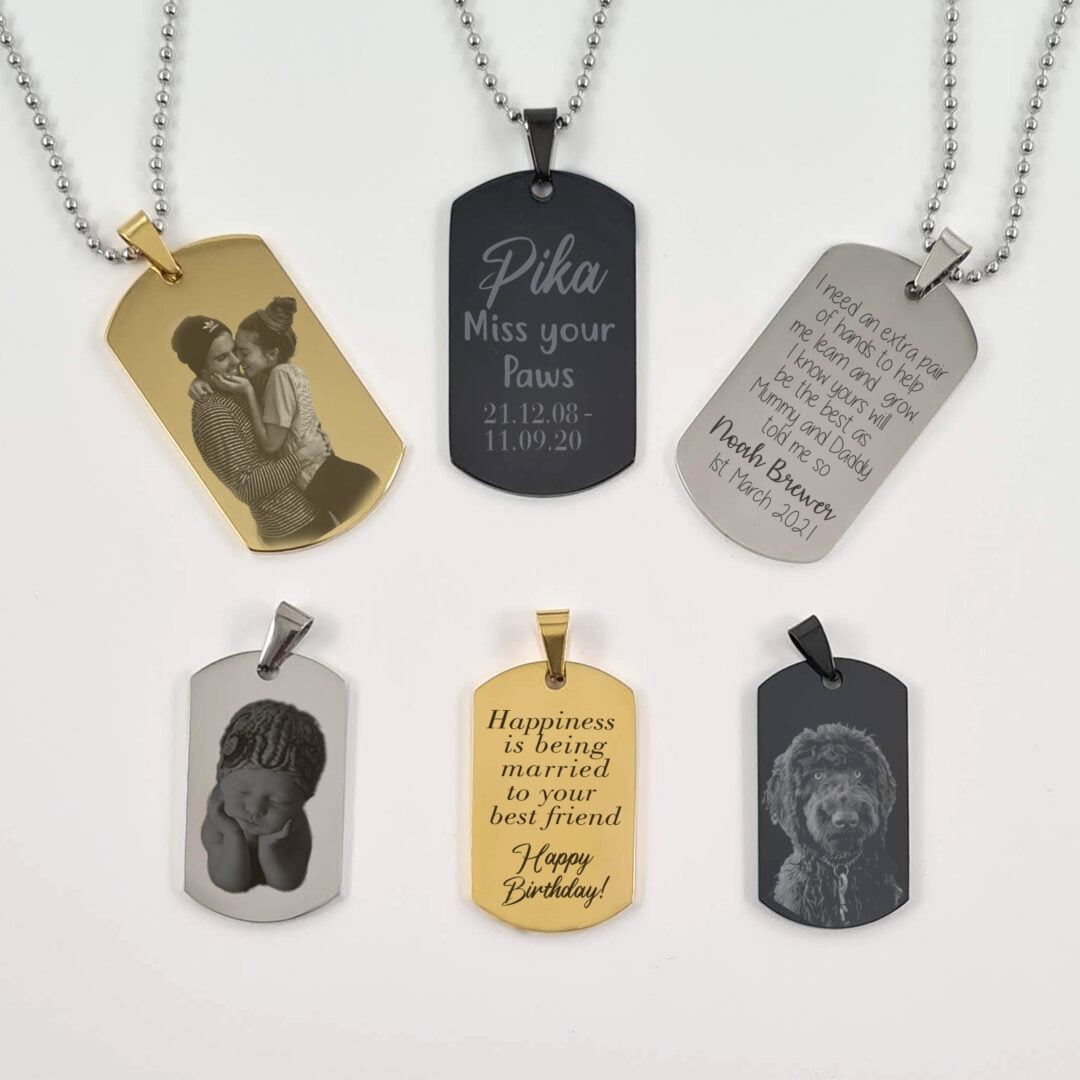 The Army Dog Tag once just for our military men and women. Now also a beautiful fashion accessory with a difference. As really they are a blank canvas crying out for words to fill them to create your own unique gift. Whether it be a loving message, quirky or sexy message we can make your words come alive on this beautiful piece of jewellery.
Our stunning army dog tags are, fitted with a sturdy ball chain 50 cm in length. They are available in Silver, gold or black. We can happily do either a necklace or a keyring for you.
We also have our stunning Chole and Alex collections for your beautiful messages and photos.
The Perfect Gift
These personalised pieces are the Perfect Gift. Write in your own words, how much you love and treasure your Father, Grandfather, Son, Friend, Sibling, Partner or a very special friend.
A gift that will last a lifetime
Our engraving is completed, on a high-quality Laser machine in-house. Various fonts to choose from to get your special, unique message across to the receiver.
Personalised Love Story Lockets
We can add that extra personalised touch, to your Love Story Floating Locket. By adding a personalised charm. Choose from Personalised people shapes or perhaps a backing plate that sits inside the back of the locket. You can either have it facing towards the back, with a beautiful unique message or even a photo the choice is yours.
We love creating stunning unique pieces for your magical life events at Love Story. There is also plenty of other beautiful Love Story pieces that you can select from.
We hope you enjoy creating your special personalised piece as much as we do.
Deb and The Love Story Team