With a passion for jewellery and a sparkle of gold, silver, rose gold and surgical stainless steel, Debbie created her own love story in July 2018 from her 13 years of knowledge in the jewellery industry. Showcasing an extensive range of Australian made jewellery at its heart, Love Story Jewellery is proud to offer a personalised touch to your next jewellery piece.

If you are after quality jewellery and are tired of the same old waiting for Pre-orders and delays due to the personalisation of your piece, Love Story is definitely the place for you.
Orders are shipped daily Monday to Friday from Newcastle, NSW, for orders placed before 12 pm AEST.
Would you like jewellery, that you can choose a variety of metals that suit your lifestyle? Love Story is the place for 9ct, 18ct gold, Sterling Silver and surgical steel. All of our 9ct, 18ct gold and sterling silver is sourced from our Australian wholesalers.
9ct, 18ct Gold and some sterling silver pieces have up to a 7-day turnaround WHY?  with gold prices they fluctuate daily, this way we can offer you the best possible price. Love Story operates on a best price policy, we have the best possible price every day, we do not offer discounts, this way you can be assured you will receive the best possible price every day. We are aware of course jewellery stores are known for discounting and constant 2 for 1 deals, our pricing structure you will find is lower than these deals every day of the week generally. 
Our 316 surgical metal, does not cause allergies. It does not tarnish and is hard plated. Each of our pieces are tested over a period of time, prior to being offered by us, the testing includes wearing in water, shampoos, soaps, allergic reactions. Our surgical steel range is also within reach financially, for EVERYONE!  
Let's talk about personalisation
Our laser engraving is completed by our trained team of engravers, in-store at our premises. This ensures your engraving will still be there on your treasured piece, for years to come.
The UV printed jewellery and jewellery cases are also completed in-house.
This is how we can offer such a quick turnaround for you.
A little about the owner of Love Story Jewellery
Deb here, I am the owner of Love Story Jewellery, I started my jewellery career back in 2005 after 13 years, Love Story Jewellery was born after learning the tools of the trade in the 13 years spent in the jewellery industry, with some help of onsite trained jewellers, retail management roles store and regionally based, at one stage looking after 18 stores stretching from Canberra through to the Queensland border. In this extensive time period I also learnt and listened to customers what was most important to them and what they really did not like. One of those was false reviews for businesses and being continuously hounded for a review. At Love Story, yes we will send an email asking for a review, however we will not hassle you, of course we appreciate the time and effort if you do leave a review. The only reviews that are on our website are verified purchased reviews, this way you can shop with confidence. 
Love Story Jewellery is my passion and this shows through in the ranges of jewellery, with the help of our team in choosing our collections, we cover many age groups in our team members, which helps cover the many age brackets and peoples styles. 
My other passion is of course my 2 sons with only 2 years between my two boys, the eldest Jacob married in November 2017 to Heather, which is where the inspiration came from for the wedding range of floating charms. On the 26th of February 2021 my life changed for the better with my gorgeous and precious granddaughter Claire Ripley was born. My other son Sam is in a long term relationship and has been a massive help in establishing Love Story Jewellery. Sam and I share business premises at Bennetts Green where we have a showroom and warehouse.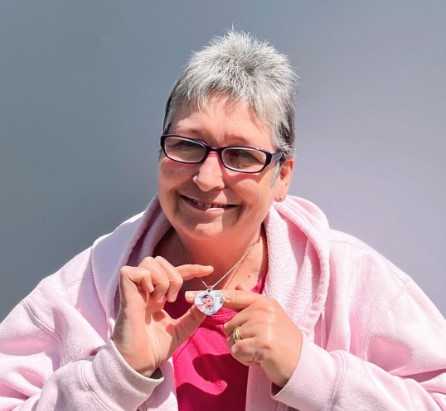 Where are we located?
Now located in Bennett's Green, New South Wales, Deb and her team engrave and print your requests on the range of personalised jewellery offered. With a speedy turnaround for each of the products offered for any jewellery lover, the range boasts of 
Floating lockets and charms are the most extensive in-store range in Australia.

Medical jewellery

Baby jewellery, brooches, bracelets including a large range of Bluebird jewellery.

Children's jewellery, bracelets, rings, necklaces and jewellery boxes.

Bracelets, bangles and cuff bracelets

Earrings, studs, hoops, dangle ear wires.

Rings

Necklaces and Chains

Jewellery boxes

Anklets

Keyrings

Brooches

Photo jewellery

Memorial jewellery

Birthstone jewellery

Army necklaces
Love Story jewellery is available in-store at 
Shop 3/ 12 Statham Street,
Bennetts Green. NSW 2290
Or online at;