Cherish Cuff Bracelet: Coordinates are available in a variety of tones, Silver, Rose Gold, Gold along with 4mm, 6mm, 10mm, and 15mm in different size widths. A perfect memorable gift of a location that you hold dearly, perhaps where you and your partner first met? or where the birth of your bub? Coordinate ideas are truly endless.
How do you find the GPS Coordinates for a location? follow this link https://www.latlong.net/ 
Step 2: After finding your location using the map. Example Shown below.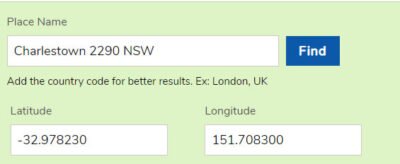 Step 3: Scroll down the page and copy and paste the GPS Coordinates. Now your coordinates are ready to be beautifully Laser engraved by our onsite Laser engraving team.
GPS Coordinates
32° 58′ 41.628" S151° 42′ 29.88" E
Specifications: Cherish Cuff Bracelet: Coordinates 
Approx Width:
4mm, 6mm, 10mm, 15mm * Please note the 4mm and 6mm have a cutout heart on each end of the cuff, these face to the back as shown in 4mm and 6mm photos.
Approx Weight: 23.68 grams
Internal or External: Your choice of inside or the outside for engraving of coordinates.
Colours: Silver, Rose Gold, and Gold
Approx Length: 16cm adjustable to fit children, men, and women
Allergy-free
Anti-tarnishing
Waterproof
This item is made in-store at Newcastle NSW Australia. 
In-stock and ready to ship from Newcastle NSW
Are you sending a gift? Love Story has a gift-wrapping service.